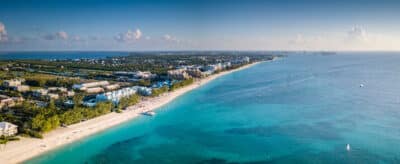 Cayman Islands Publishes New Corporate Governance Regulations
Ready or Not: the Cayman Islands' updated Corporate Governance regulations will impact all regulated entities come 14 October, 2023.
The Cayman Islands, renowned for its offshore financial industry, actively maintains its reputation by regularly updating its regulations through consultations with industry bodies and firms. These updates ensure compliance with international standards, enhance transparency, and promote stability in the financial sector.
As the implementation date for the latest regulatory changes approaches, all regulated entities must be prepared to meet the increased standards now required by the Cayman Islands Monetary Authority (CIMA). We've summarised how the updates impact Class B insurance companies in this post provided by our sister company, CSI International Underwriting (Cayman) Limited.
What is Happening
A "New Rule" becomes effective 14 October, 2023 as a revision to, and extension of, existing regulations that previously pertained mainly to insurers. The updates coming into effect follow the law gazetted earlier this year from CIMA. The "New Rule" titled "Corporate Governance for Regulated Entities, (14 April 2023)" replaces the previous rule named "Corporate Governance for Insurers, (April 2016)." The new regulations will not only extend to all regulated entities, but also contain critical udates for all Class B insurance companies.
New Regulation Impact on Class B Insurers
Unlike other regulated entities that will be impacted by the New Rule on corporate governance for the first time, Class B insurers already had requirements in place to meet these standards. While this may mean that your company is mostly up to date, it's critical for you to know what has changed, the actions your company needs to take, and opportunities available. Companies that do not abide by the updates can face fines, penatlies or gaps in their corporate governmence programes.
Summary of Key Changes Identified in the New Rule:
The summary information found here is to aide your understanding, and you should consult the official guidance notes on Corporate Governance for Regulated Entities, (14 April 2023). If you have questions after reviewing these resources, please reach out and our team will be happy to answer your questions.
Code of Conduct
The board of directors must abide by a code of conduct that is based on several items, including the prescribed key principles of selflessness, integrity, objectivity, accountability, openness, honesty and leadership. These are further defined in the regulations.
Appointments and Delegation of Functions and Responsibilities
While this topic is not new, the key change in this area includes additional guidance on the establishment and monitoring of sub-committees. Insurance-regulated entities must ensure that an actuary appointed under the Insurance Act is granted direct access to all relevant information.
Relations with CIMA
Further expansion to the supervisory review requirements outlines how regulated entities are responsible for demonstrating how they meet a particular rule, or its application, based on the entity's size, complexity, structure and nature of business.
Responsibilities of the Board of Directors
Enhanced requirements for documenting the responsibilities of the board of directors include clearly defining the roles and responsibilities allocated to the board, senior management and other control functions.
Collective Duties of the Board of Directors
There is newly prescribed timing for when CIMA should be notified of any substantive issues that could materially affect the insurer. Additionally, a regulated entity must comply promptly and fully with requests for information from CIMA.
Duties of Individual Directors
Additional duties of individual directors of the board are outlined to ensure that the best interests of the regulated entity and relevant stakeholders are put first, ahead of the director's own interests.
Use of Sub-Committees
Increased guidelines related to the use of sub-committees outline how the board of directors may establish the committee and their requirements. For example, each established sub-committee, must have a charter of terms that sets out its mandate, scope, accountability, reporting obligations and working procedures.
Conflicts of Interest Policy
While all Class B insurers should already have a documented conflicts of interest policy in place, the updated regulations include enhanced details on what the documented conflicts of interest policy should include, which are abbreviated as follows:
Agreement to avoid activities that could create conflicts of interest or the appearance of conflicts of interest
Approval process for members to follow before they engage in certain activities
Duty to disclose matters that may result in a conflict of interest
Responsibility to abstain from voting on matters where objectivity may compromised
Procedures for keeping transactions with related parties separate
Process for managing non-compliance
Requirement to Establish an Audit Committee
The New Rule includes a requirement for the board of directors to establish an audit committee or an equivalent that is commensurate with the size, complexity, structure, nature of business and risk profile of the regulated entity.
How can CSI help?
CSI International Underwriting (Cayman) Limited has been a licensed insurance manager in the Cayman Islands since 1982. As your insurance manager, we can assist you with reviewing your company's policies and procedures to ensure they are up to date with the New Rule, ensure board meetings are run in accordance with your corporate governance framework, liaise with CIMA on your behalf, and look after the day-to-day operations of your company. We provide regular financial reports, and are your go-to for all regulatory, government, insurance, banking, and accounting filings and requirements. With CSI, you receive the highest level of corporate governance assistance and regulatory advice possible.
More information